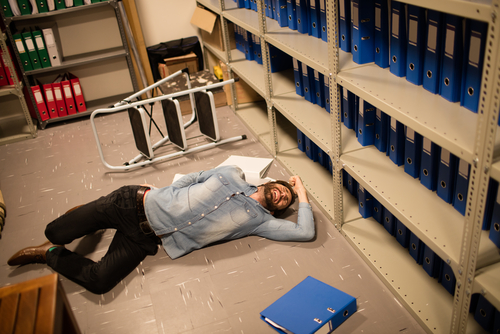 Recovering Compensation for Workplace Accidents
Workplace accidents are a fact of life. From the simple slip and fall incident, to auto accidents, electrocution, to contact with harmful chemicals, there are an endless number of ways that a worker can suffer an illness or injury while doing their job. In order to help protect workers and keep the court system from getting overwhelmed, many states require that all employers carry workers' compensation insurance for their employees. Here is an overview of how the worker's comp system functions and what you need to know.
The Statistics
According to the National Safety Council, an astonishing roughly 100 million labor days are lost due to workplace accidents per year.
The top three types of injuries can be lumped into three categories:
Overexertion injuries
Contact accidents
Slip and fall incidents
Overexertion injuries are often caused when a worker lifts something with improper form, such as lifting something heavy and injuring his or her back. Contact injuries encompass a wide range of things including being struck by equipment or other objects and being caught or compressed in a piece of machinery. And even though you may think of open workspaces like construction sites for slip and fall injuries, they can just as easily happen in an office setting with improper maintenance or housekeeping. 
What Is Workers' Comp?
Workers' comp is a no-fault insurance policy that allows employees to recover funds lost due to a workplace accident or illness. The no-fault portion means that the employee does not have to prove that their employer's negligence was the cause of their injury. If you are employed by the company and are injured while performing your duties, you are entitled to collect under the system. Recovery is not strictly limited by geography, either. If you are injured on their premises or out while doing your job, you are still covered. This often comes into play when someone is in a car accident while doing their job.
What Does Workers' Comp Cover?
If you successfully file a workers' comp claim with your employer, you are entitled to compensation for the diagnosis and treatment of your illness or injury, and a portion of the lost wages you would earn if you were able to work. All states have different criteria for lost wages compensation, but most hover around ⅔ to ¾ of your current wage rate. Some workers' comp programs also pay for future therapy, retraining, or rehabilitation, if necessary. Just like with wage benefits, this varies from state to state, so check with a lawyer or your company to find out.

Third Party Suits
When it comes to compensation, there is a tradeoff between the workers' comp system and the standard negligence lawsuit. Workers' comp eliminates the need to prove negligence by your employer, but if your injury does fall under their coverage, it is often a worker's only chance for recovery. In a negligence suit, you are allowed to seek damages for pain and suffering but under the workers' comp system, this is not allowed. The compromise to having universal workers' comp means that employees are not eligible to file a negligence lawsuit against their employer. The exception to this rule is if a third party (not you, the employer, another employee, etc.) can be proven as the cause of your injuries. Contractors, vendors, or other entities on the job-site are not covered by workers' comp insurance. If you are at all confused, be sure to contact a workers' compensation/personal injury attorney to analyze your situation and determine which path is the best one for you.
Contact A Cherry Hill Workers' Compensation Attorney to Discuss Your Workplace Injury Case Today
A workplace injury can be devastating, particularly if it prevents you from returning to work for an extended period of time. Although workers' compensation laws are supposed to provide you with reimbursement for medical expenses and replacement pay for missed time at work, it is not always easy to get the workers' comp benefits you deserve. That is why you should speak with a knowledgeable workers' compensation lawyer about your situation and get guidance throughout the claims process. The experienced workers' compensation attorneys at Begelman & Orlow, P.C. represent clients throughout New Jersey and Pennsylvania. Call 866-627-7052 or fill out our online contact form to schedule a consultation about your case. We have an office conveniently located at 411 Route 70 East, Cherry Hill, NJ 08034, and another at 101 West Elm Street, Conshohocken, PA 19428.
The articles on this blog are for informative purposes only and are no substitute for legal advice or an attorney-client relationship. If you are seeking legal advice, please contact our law firm directly.