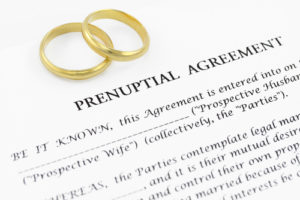 In the excitement surrounding planning your wedding and celebrating your engagement, it's easy to overlook pertinent legal steps that you should take such as establishing a prenuptial agreement. However, even though raising the conversation about prenuptial agreements can be difficult with your future spouse, it is strongly recommended because it is a tool that actually protects both of you.
A prenuptial agreement is a contract generated by two people prior to marriage. Usually, it will specify what property rights are of each person after the marriage occurs and all of the property each person owns. Prenuptial agreements are strongly recommended if you wish to clarify financial rights, avoid arguments and confusion in the case of divorce, pass separate property to children from previous marriages and get protections from debts.
There are many different reasons why you should schedule a consultation with an experienced prenuptial agreement attorney and each person who is a party to the contract should have their own lawyer to review it. This can prevent claims in the future that one party was coerced into signing the document. The laws will determine what happens to the property that you acquire during the marriage if you do not generate a prenuptial agreement.
A spouse will usually, in the absence of a prenup, have the option to share ownership of property acquired during the marriage, incur debts during the marriage that the other spouse may ultimately be responsible for, and sharing the control and management of any community or marital property. Making a valid prenup is a crucial step of the process and ensuring that everyone's rights have been thoroughly reviewed and articulated in the legal document can prevent confusion and allegations of an invalid prenup down the line. For this reason, each party to the contract should consult directly with their own prenuptial agreement attorney and talk about the pros and cons of the specific document in question.
Get more information today by calling 866-627-7052 or by filling out our convenient online contact form.
The articles on this blog are for informative purposes only and are no substitute for legal advice or an attorney/client relationship. If you are seeking legal advice, please contact our law firm directly.