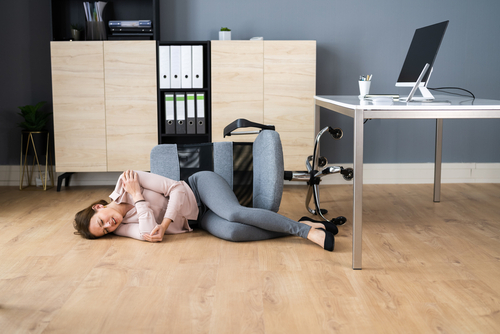 Slip and fall accidents are one of the most common causes of workplace injuries. Workplaces may be littered with numerous slipping or tripping hazards, including wet floors, cords or wires strewn across the floor, or clutter from debris, equipment, or furniture. If you have suffered a slip and fall or trip and fall accident at work, here are four important tips to follow to help protect your rights to seek compensation and financial benefits for your injuries and losses.
Seek Medical Treatment
You should seek medical attention as soon as possible after suffering a slip and fall at work. Even if you don't think you were badly hurt, you should still get checked out by a doctor. Serious injuries can take days or even weeks to begin causing you pain or severely limiting your ability to perform daily tasks. If you wait too long to see a doctor, when you try to pursue workers' comp benefits your employer may try to argue that your injuries occurred outside of work. Promptly diagnosing your injuries after a slip and fall will help strengthen your claim that those injuries are work-related. For that reason, when you see a doctor after a slip and fall you should also remember to inform them that you are seeing them following an accident at work.
Finally, remember that under New Jersey's workers' compensation system, your employer has the right to choose the doctor or other provider who will treat you for your injury (except when seeking emergency care, in which case you may see any provider you wish). 
Document the Accident Scene
You should also try to document the accident scene, if possible, by taking photos or video of whatever it was that caused you to slip or trip, as well as other details like visual obstructions or lighting conditions. You should also talk to any co-workers or other individuals who may have witnessed your fall
Report Your Slip and Fall
You must also notify your employer that you suffered a slip and fall in the workplace. In New Jersey, you typically have as few as 14 days to notify your employer to remain eligible for workers' compensation benefits. Your employer may have procedures for you to follow to report a workplace accident.
Speak to a Workers' Compensation Lawyer
If you suffered injuries in a slip/trip and fall at work, you normally will be entitled to file a claim for workers' compensation benefits. Workers' comp benefits are available to any employee who is injured in the course and scope of their job, regardless of whether their employer bears any fault for having caused the employee's injuries. Workers' comp benefits may include covering all reasonable and necessary medical treatment and rehabilitation of your injuries, as well as partial replacement of your wages or income if you miss time from work due to your injury.
Unfortunately, receiving workers' compensation benefits can often be a complex and time-consuming process for an injured worker. For that reason, you should speak to a workers' compensation lawyer if you face any resistance from your employer to providing benefits after a slip and fall in the workplace, or if you are not receiving the full scope of benefits you believe you are entitled to.
Contact a Cherry Hill Workers' Compensation Lawyer to Discuss Your New Jersey Workplace Injury Case
A workplace injury can be devastating, particularly if it prevents you from returning to work for an extended period of time. Although New Jersey Workers' Compensation laws are supposed to provide you with reimbursement for medical expenses and replacement pay for missed time at work, it is not always easy to get the Workers' Comp benefits you deserve. That is why you should speak with a knowledgeable Workers' Compensation lawyer about your situation and get guidance throughout the claims process. The experienced Workers' Compensation attorneys at Begelman & Orlow represent clients in Voorhees, Lindenwold, Haddon Township, Collingswood, and all across New Jersey. Call 856-428-6020 or fill out our online contact form today to schedule a free consultation about your work injury case. Our main office is located at 411 Route 70 East, Cherry Hill, NJ 08034, and we also have offices in Conshohocken, PA.
The articles on this blog are for informative purposes only and are no substitute for legal advice or an attorney-client relationship. If you are seeking legal advice, please contact our law firm directly.