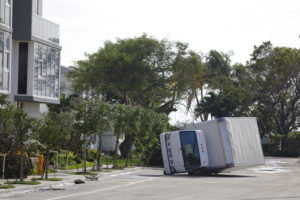 All drivers are aware of the blind spots in their own vehicles. The locations of those blind spots are highlighted in driver's education literature, in owner's manuals, and on the vehicles themselves. Even with that awareness, most drivers have experienced the scare that is associated with a vehicle appearing out of a blind spot.
Tractor trailers have blind spots as well, but those blind spots are much more numerous, much larger, and scattered all around the vehicle. Truck drivers must constantly scan their mirrors to be as aware as possible of the location of the other traffic on the highway. However, even the best drivers struggle to manage these blind spots at times, making it incredibly important for other motorists to be aware of those blind spot locations and do their best to avoid them.
How to Avoid Tractor Trailer Blind Spots
One of the easiest ways to avoid a tractor trailer's blind spots is to remember the phrase, "if you can't see my mirrors, I can't see you!" The idea is to make sure that wherever you are in relation to the truck, that you can see at least one of the truck's mirrors. If you can clearly see the truck's mirrors, the driver will be able to see you.
Familiarize Yourself with "No Zones"
"No Zones" are the blind spots on a truck, and federal and state governments have made an effort to place placards on the rear doors of trailers highlighting those no zones. Those zones are:
Twenty feet directly in front of the cab
Thirty feet directly behind the trailer
An area one lane to the left of the driver
An area covering two lanes to the right of the driver
A link to an illustration of those "no zones" can be found here.
No Zones Can Cause a Problem for Personal Injury Claims in New Jersey
Not only do blind spots pose a danger for drivers, they pose a danger to personal injury claims arising from tractor trailer accidents.
If you are involved in an accident with a tractor trailer, and it can be shown that you were in the truck's blind spot at the time of the accident, the truck driver or his company may be able to argue that you contributed to your own damages under the theory of comparative negligence. In New Jersey, comparative negligence allows a defendant to use the actions of a plaintiff to reduce any damages payable if they can successfully argue that the plaintiff's actions played a role in the injury. Additionally, if a defendant can argue that the plaintiff was 51 percent or more at fault for their injuries, the defendant can avoid liability altogether.
Contact a Cherry Hill Personal Injury Lawyer to Discuss Your Truck Accident Case in New Jersey
Did you or a loved one sustain serious injuries due to a motor vehicle accident in New Jersey? Don't let the medical bills pile up while you wait for the negligent party or their insurance company to do the right thing. Right now, you need an aggressive personal injury attorney on your side, fighting to get you the compensation you need, want, and deserve. The skilled attorneys at Begelman & Orlow, P. C. represent clients injured because of auto accidents in Camden, Gloucester Township, Winslow, Pennsauken and throughout New Jersey. Call 856-428-6020 or email us to schedule a consultation about your case. We have an office conveniently located at 411 Route 70 East Cherry Hill, NJ 08034, as well as offices in Conshohocken, PA.
The articles on this blog are for informative purposes only and are no substitute for legal advice or an attorney-client relationship. If you are seeking legal advice, please contact our law firm directly.