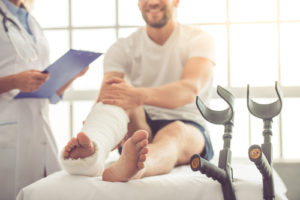 The Bureau of Labor Statistics reported around 52,070 incidents of foot-related injuries throughout 2014.
These serious injuries often cause significant losses including medical bills and lost time from work. When you suffer from a work-related foot injury, you'll need to learn and enforce your rights to financial compensation.
Keep reading to learn more about on-the-job foot injuries.
What Commonly Causes Foot Injuries on the Job?
The Bureau of Labor Statistics explains how three out of every four work-related foot injuries result from employee non-compliance. It's necessary to always ensure you are wearing the proper work shoes and attire to prevent these dangerous injuries. Other common causes of on-the-job foot injuries include:
Falling objects
Over exertion
Compression
Repetitive motions
Punctures
Frostbite or exposure to the elements
Foot injuries often impact other parts of the body like the ankles and knees, which can severely limit a person's mobility.
What Losses Are Associated with a Foot Injury?
Foot injuries are often mistaken for a minor injury, but these types of conditions can be debilitating. When the injuries are severe, the victim may not ever fully recover. They may have difficulty walking, standing or performing work-related duties. Victims who have suffered a job-related foot injury often seek damages in the form of:
Physical pain and suffering
Medical bills
Prescription pill costs
Lost wages
Disability
Loss of quality of life
It's necessary to consider whether your own carelessness contributed to the injury prior to seeking a lawsuit. If you weren't wearing the proper footwear recommended by your employer, then it's possible the court may reduce your settlement amount.
What Are My Legal Options After a Foot Injury on the Job?
For work-related injuries, the primary source for financial compensation is workers' compensation claims. Depending on the circumstances surrounding your case, it may be wise to enlist the help of a workers' compensation attorney. A legal professional can help ensure you are provided the financial relief you deserve after an accident. Unfortunately, many workers' compensation claims are initially denied. If this happens to you, then don't blindly accept the denial. Reach out to an attorney for help. The average maximum compensation for foot injuries in New Jersey is $136,344. This estimate is significantly higher than the national average.
Contact a Cherry Hill Personal Injury Lawyer to Discuss Your Foot Injury Case in New Jersey
Did you or a loved one sustain serious injuries due to a work-related accident in New Jersey? Don't let the medical bills pile up while you wait for the negligent party or their insurance company to do the right thing. Right now, you need an aggressive personal injury attorney on your side, fighting to get you the compensation you need, want, and deserve. The skilled attorneys at Begelman & Orlow, P. C represent clients injured because of a workplace accident in Camden, Gloucester Township, Winslow, Pennsauken and throughout NJ. Call 866-627-7052 or email us to schedule a consultation about your case. We have an office conveniently located at 411 Route 70 East Cherry Hill, NJ 08034, as well as offices in Conshohocken, PA.
The articles on this blog are for informative purposes only and are no substitute for legal advice or an attorney-client relationship. If you are seeking legal advice, please contact our law firm directly.