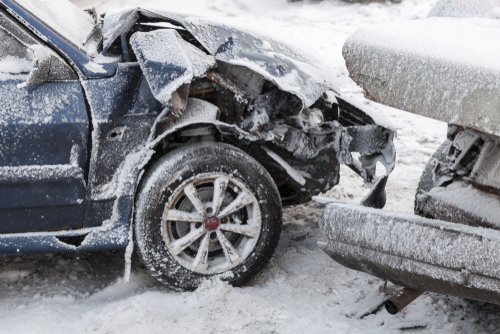 Many negligent behaviors can lead to a car accident. But, what happens if a car accident is caused by winter weather? Can you file a claim with your insurance company?
New Jersey's No-Fault Laws
The state of New Jersey is a no-fault insurance state. This means that regardless of who is at fault when an accident occurs, or what the cause of the accident is, you will turn to your insurance company to cover your damages. This means that if you are in a car accident, even one due to winter weather, your insurance company should be responsible for your damages.
Personal Injury Claim in New Jersey
Severe car accidents and injuries can quickly exceed the maximum compensation allowed with an insurance accident claim. When this happens, it may make sense to seek compensation through a personal injury claim. However, this requires that we prove negligence against the responsible driver.
While a sole reason of winter weather is not likely to be considered negligence, there are other actions that could be. These include:
Driving under the influence
Speeding
Aggressive driving
Distracted driving
Each of these actions, paired with winter driving, could be dangerous and lead to a car accident.
Steps to Stay Safe This Winter
Winter weather presents a risk to drivers, regardless of how careful you are on the roads. Keep these winter safety tips in mind as you navigate New Jersey roads:
Give yourself time before leaving: Snowfall overnight can cover your vehicle. If you're in a rush, you might be tempted to let it gradually melt off. This reduces visibility, however, and can be dangerous. Give yourself time each morning before leaving. Check the weather each night to know what to expect in the morning.
Stay aware: Distractions are dangerous, regardless of the weather. But, they can be especially dangerous when the roads are already bad. Try to avoid distractions to better focus on the road. Use hands-free vehicle features and avoid looking at your phone. If possible, put your phone in a location that won't tempt you to use it.
Keep up with routine maintenance: Vehicle problems can also be a danger when driving during the winter months. Keep up with maintenance, like tire and oil changes.
Reduce speed: Depending on how bad the roads are, reducing speed can help you navigate icy, wintry roads.
Practice extra caution this winter as you navigate New Jersey's roads. While your insurance company may cover some of your damages, getting into an accident can still be painful and very inconvenient. You might even cause an accident for other drivers on the road. Depending on the cause, it could lead to you being responsible for their damages.
Discuss Your Legal Options With a Lawyer Today
If another driver acted in a negligent way, leading to your injuries, then you may be able to file a claim. It can be helpful to discuss the details of your car accident with a lawyer who is familiar with New Jersey's laws. Additionally, a lawyer may be able to help you navigate your insurance claim if the insurance company is not cooperating with you.
Contact a Winslow Personal Injury Lawyer to Discuss Your Car Accident Case in New Jersey
Did you or a loved one sustain serious injuries due to a car accident in New Jersey? Don't let the medical bills pile up while you wait for the negligent party or their insurance company to do the right thing. Right now, you need an aggressive personal injury attorney on your side, fighting to get you the compensation you need, want, and deserve. The skilled attorneys at Begelman & Orlow, P.C. represent clients injured because of a car accident in Camden, Cherry Hill, Gloucester Township, Winslow, and throughout New Jersey. Call (856) 547-7400 or fill out our online contact form to schedule a consultation about your case. We have an office conveniently located at 411 Route 70 East, Cherry Hill, NJ 08034, as well as an office in Feasterville, PA.
The articles on this blog are for informative purposes only and are no substitute for legal advice or an attorney-client relationship. If you are seeking legal advice, please contact our law firm directly.