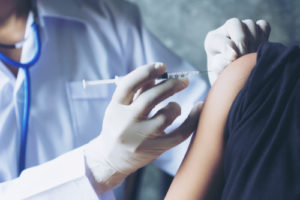 When you visit the doctor's office for a vaccination you don't expect to wind up with an injury stemming from that vaccination. But, depending on where the vaccine is administered and how deep it is injected you could wind up suffering from some pain. The most common issue is known as the Shoulder Injury Related to Vaccine Administration, or SIRVA. If the doctor injects you too high up on your shoulder or sticks the needle too deep into your skin, you could wind up dealing with a lot of pain and other issues with your shoulder. Today, we will examine SIRVA and how it relates to workers' compensation.
Injuries Caused by SIRVA in Winslow Township, NJ
SIRVA is still a rare condition for patients who receive vaccinations but it's still possible to develop an injury. Some of the most common injuries a patient can suffer from if diagnosed with SIRVA include the following:
Shoulder bursitis
Frozen shoulder
Shoulder dysfunction
Tear of the rotator cuff
Brachial neuritis
Impingement syndrome
Tendonitis in the shoulder
Adhesive capsulitis
Symptoms of SIRVA typically develop within 48 hours of receiving an injection for a vaccine. Another common injury of SIRVA is loss of motion in the arms. If you ever experience this or any other symptom mentioned in this post after a vaccination you should seek medical attention.
Treating SIRVA in Collingswood, NJ
The most mild cases of SIRVA can be easily treated with prescription anti-inflammatory medication, some of which might be topical (rubbed onto the affected area). You might also be able to rehabilitate the injury with physical therapy. Physical therapy will help improve the range of motion in your arms and with your shoulder. It will also help to get the swelling to go down.
The most severe cases involving SIRVA could result in strong pain medication prescriptions for you, the need for cortisone injections, and even possibly surgery. Surgery could put you out of commission for a couple of weeks, which means you might not be able to go to work and earn a living. If this happens, what will you do? How will you pay the bills?
Paying Compensation for SIRVA in Haddonfield, NJ
So, how does one pay for all the treatments and potential surgeries needed after suffering an injury like SIRVA? For starters, if the government issued the vaccination that led to your injury it will pay compensation for your medical expenses. This is done through a fund called the National Vaccine Injury Compensation Program, or VICP, which began in 1988 when the National Childhood Vaccine Injury Act of 1986 was passed.
You have one other option when it comes to compensation related to SIRVA injuries and that is workers' compensation. Most people go to their family doctor for a vaccination for no other reason than to protect themselves from illnesses. So, how would workers' compensation come into play? For starters, if your employer offered the vaccination at the office one day or even made it mandatory, and you were injured, you can file for workers' compensation. You are also eligible if the vaccination was mandatory and you obtained it from your family physician outside of the office. How? It was ordered as part of your employment.
Contact a Voorhees Workers' Compensation Lawyer to Discuss Your New Jersey Workplace Injury Case
A workplace injury can be devastating, particularly if it prevents you from returning to work for an extended period of time. Although New Jersey Workers' Compensation laws are supposed to provide you with reimbursement for medical expenses and replacement pay for missed time at work, it is not always easy to get the Workers' Comp benefits you deserve. That is why you should speak with a knowledgeable Workers' Compensation lawyer about your situation and get guidance throughout the claims process. The experienced Workers' Compensation attorneys at Begelman & Orlow, P. C. represent clients in Camden, Cherry Hill, Gloucester Township, Winslow, Pennsauken, Voorhees, Lindenwold, Haddon Township, Collingswood, Haddonfield and all across New Jersey. Call 856-428-6020 or email us today to schedule a consultation about your work injury case. Our main office is located at 411 Route 70 East Cherry Hill, NJ 08034.
The articles on this blog are for informative purposes only and are no substitute for legal advice or an attorney-client relationship. If you are seeking legal advice, please contact our law firm directly.