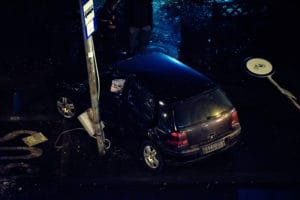 A report from the Essex County Prosecutor's Office states that two Bayonne men were killed in a car accident in Newark on Saturday morning. The accident, which occurred on Ferry Street, occurred when the driver lost control of the vehicle and crashed into a utility pole. The accident reportedly occurred around 3 a.m. at the intersection of Ferry and Foundry Street.
According to Assistant Essex County Prosecutor Thomas Fennelly, no other cars were involved in the incident. The victims were two men, aged 29 and 20 respectively, both from Bayonne. The 29-year-old driver was transported to University Hospital where he was pronounced dead. The 20-year-old victim reportedly died at the scene. An investigation regarding how the accident occurred is ongoing.
Single vehicle car accidents are a common, tragic occurrence. In many cases, single vehicle accidents are seen as self-contained situations that may have resulted from the fault of a driver or of those found at the scene of the accident. However, sometimes an investigation reveals that this is not the case. A wide variety of situations can lead to a single vehicle accident – factors outside the driver's control.
Manufacturing errors with a vehicle, mechanical failure, uneven roads, improperly posted signs and more could all cause a devastating accident. Even other drivers on the road could cause these accidents, even if they are not found at the scene. The driver may not always be liable for the accident.
If you or a loved one has been injured in a single-vehicle car accident due to faulty vehicle manufacturing, poor road conditions, someone else's negligence, or recklessness, contact the personal injury attorneys at Begelman & Orlow by phone or online via our convenient online contact form to schedule your case consultation. You could be eligible for compensation for injuries and other damages resulting from the accident.
The articles on this blog are for informative purposes only and are no substitute for legal advice or an attorney/client relationship. If you are seeking legal advice, please contact our law firm directly.