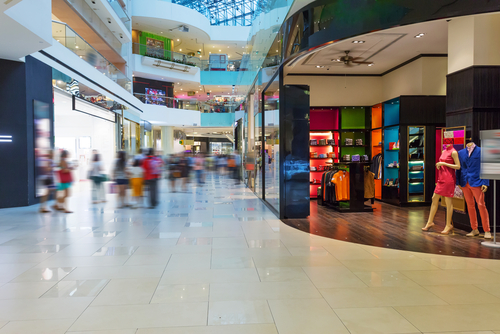 With the holiday season upon us, many of us will spend the next couple of weeks in the local mall. While things like shopping, dining, or even people watching might be on your list, suffering a major injury is likely not something that you consider happening. So, when you slip and fall, and are left with an injury, it can be confusing as to what to do next.
Common Causes of Mall Slip and Falls
There are a few situations that could cause you to slip and fall in a mall. These include:
Recently mopped floors
Customers tracking ice indoors
Unmaintained floorboards
Loose wires
Property owners are expected to provide customers with a safe shopping experience. By allowing customers into the property, they are accepting responsibility to provide them with a location that is free from hazards. If there are known hazards, then they also have the responsibility to notify them of those risks.
Read more: Can a Restaurant be Held Liable for an Injury Sustained on Property?
Important Steps to Take Following a Mall Slip and Fall
Things can quickly get confusing following a slip and fall. These steps can ensure that you take the right steps, while also protecting your legal rights:
Receive medical care: It is important that you receive immediate medical care. Slip and falls can lead to many injuries including broken bones, internal bleeding, back and neck injuries, and torn ligaments. Even if you don't feel immediate pain, it is possible that you might have experienced an injury.
Notify the mall: Once you have received medical care, it is important to notify the mall, or store, of the details of the slip and fall. This allows them to take the necessary steps to prevent another customer from also being injured. The mall or property owner may attempt to place some of the blame on you, but a lawyer can help you protect your legal rights.
Collect evidence: If possible, it can be helpful to begin collecting evidence for your case. This includes photos of the hazard, as well as medical records.
Discuss your case with a lawyer: A lawyer can help you evaluate the details of your injury and determine what your legal options are.
While the most important thing to focus on following a slip and fall is your wellbeing, it is important to also consider your legal options soon. In addition to the statute of limitations in New Jersey which requires you to file a slip and fall case within two years from the date of the accident, the longer that you wait, the harder that it is to collect evidence.
For example, your lawyer may need to capture videos or talk to witnesses, both of which can be difficult to do after so long.
Additionally, New Jersey is a comparative negligence state. This means that even if the property owner attempts to place some of the blame on you, you may still be eligible for compensation.
Find Out Your Options Following a Slip and Fall Today
Recovery from a slip and fall accident can be expensive, especially when you factor in the medical bills and time off of work. This is why it may be a good idea to consider your legal options by talking with a lawyer. If eligible, you may be able to recover funds to help with medical bills or any other damages you incurred.
Contact a Cherry Hill Personal Injury Lawyer to Discuss Your Slip and Fall Case in New Jersey
Did you or a loved one sustain serious injuries due to a slip and fall in New Jersey? Don't let the medical bills pile up while you wait for the negligent party or their insurance company to do the right thing. Right now, you need an aggressive personal injury attorney on your side, fighting to get you the compensation you need, want, and deserve. The skilled attorneys at Begelamn & Orlow, P.C. represent clients injured because of a slip and fall in Deptford, Cherry Hill, Gloucester Township, Moorestown and throughout New Jersey. Call (856) 547-7400 or fill out our online contact form to schedule a consultation about your case. We have an office conveniently located at 411 Route 70 East, Cherry Hill, NJ 08034, as well as an office in Feasterville, PA.

The articles on this blog are for informative purposes only and are no substitute for legal advice or an attorney-client relationship. If you are seeking legal advice, please contact our law firm directly.