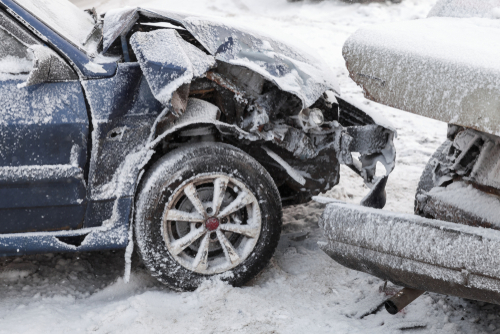 Although the holidays mark the time for celebration, they also mark the period of the year when rates of car accidents increase. Crash statistics show that car accidents and crash fatalities tend to increase during the period between Thanksgiving and New Year's. But what are the reasons for this increase in motor vehicle accidents over the holidays?
Holiday Car Accident Statistics
According to national traffic accident fatality data compiled by the National Highway Traffic Safety Administration, over the period of 1982 to 2018, the Thanksgiving weekend saw anywhere between 400 and 635 traffic fatalities nationwide, while the roughly week long period covering Christmas Eve to New Year's Day saw traffic fatality numbers that ranged from around 800 to over 1,200 each year. And these statistics don't even count traffic fatalities that occur during other days in the holiday season.
Causes of the Increase in Car Accidents over the Holidays
Several road factors often associated with the holidays are generally cited as contributing to the increase in car accidents during the holiday season. These factors and causes include:
Increased traffic, as many people hit the road to travel out of town on the holidays themselves, while communities see generally higher traffic rates throughout the season as people run around to take care of holiday gift shopping and other errands. 
Distracted driving — Despite the holidays being touted as a joyous time of year, for many people the holidays bring a lot of stress, including work-related stress, financial stress, or stress over personal matters like gift shopping or planning or attending holiday parties and events. Drivers can be distracted while lost in thought about the things going on in their life. Of course, drivers also face other common distractions such as cell phones (including using the phone to navigate or texting while driving).
Drunk driving, since many people choose to consume alcohol while celebrating the holidays at a holiday dinner or party. 
Fatigued driving, especially for drivers who are undertaking long road trips to travel for the holidays. Fatigued driving also becomes more prevalent for all drivers, as the shorter days mean drivers are more likely to be on the road after sundown, when fatigue and sleepiness naturally set in.
Adverse weather conditions from late fall/winter weather, including snow, sleet, ice, wind, and fog.
Car trouble, as colder weather is harder on vehicles (especially when they are not properly maintained), potentially causing breakdowns or other mechanical failures that can trigger an accident while a car is on the move.
Places Where Car Accidents Most Frequently Occur
During the holiday season, you should be extra vigilant when traveling on or around these places, where holiday season car accidents are more likely to occur:
Highways, especially around the holiday days themselves as people will be traveling to visit family and friends or to go on vacation.
Shopping centers/malls and commercial districts, where traffic is more likely to be congested (especially on weekends and approaching Christmas) as people are out holiday gift shopping.
Parking lots and garages, which may be congested, leading to drivers being more focused on trying to find a parking spot than on other vehicles or pedestrians around them.
Contact a Cherry Hill Personal Injury Lawyer to Discuss Your Car Accident Case in New Jersey
Did you or a loved one sustain serious injuries due to a car accident in New Jersey? Don't let the medical bills pile up while you wait for the negligent party or their insurance company to do the right thing. Right now, you need an aggressive personal injury attorney on your side, fighting to get you the compensation you need, want, and deserve. The skilled attorneys at Begelman & Orlow represent clients injured because of car accidents in Voorhees, Lindenwold, Haddonfield, Collingswood, and throughout New Jersey. Call (856) 547-7400 or email us to schedule a free consultation about your case. We have an office conveniently located at 411 Route 70 East, Cherry Hill, NJ 08034, as well as offices in Feasterville, PA.
The articles on this blog are for informative purposes only and are no substitute for legal advice or an attorney-client relationship. If you are seeking legal advice, please contact our law firm directly.