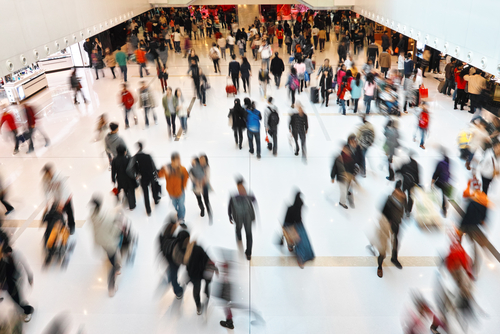 Stores and shopping centers are filled on Black Friday and over the Thanksgiving weekend with shoppers and displays of items. This traffic and clutter can create hazards that lead to slip and fall or trip and fall accidents. In addition, the weather conditions over the Thanksgiving holiday can be very poor, creating slipping or tripping hazards in parking lots and walkways outside of a store or a mall. If you are going out shopping on Black Friday or over the Thanksgiving weekend, you should keep in mind the increased risks of slip and fall accidents and what your legal rights and options are if you suffer a slip and fall. 
What to Do If You Are Injured in a Store on Black Friday
If you were hurt in a slip and fall accident on Black Friday, steps to take to protect your legal options include:
Report the accident to the store manager or owner.
Take photos of the scene of your fall, including photos of whatever caused the fall, as well as lighting and (if relevant) weather conditions.
Preserve or photograph your clothing and footwear.
See a doctor as soon as possible to get checked out for any injuries you may have suffered
Keep copies of all bills and invoices for expenses that you incurred, as well as copies of your pay stubs or income statements if you miss work and lose out on wages or income.
Who Can You Hold Liable for a Black Friday Slip and Fall Accident?
The parties that you may be entitled to hold liable for a slip and fall accident at a store on Black Friday will depend on the circumstances of your accident. Potentially liable parties can include:
The store owner, if a fall takes place in a particular store
The shopping mall/shopping center owner, if a fall occurs in the common areas of the mall or shopping center, such as in a parking lot.
Third-party maintenance companies contracted by the property owner to clean up or correct the hazard that caused your fall, such as broken pavement, potholes, or snow and ice.
Compensation You Can Recover in a Slip and Fall Claim
In a slip and fall case, you may be entitled to recover compensation for expenses and losses that you incur because of your injuries, including for:
Medical expenses for treatment and physical rehabilitation
Costs of long-term care for permanent impairments or disabilities.
Loss of wages or income from missed work, or loss of earning capacity if permanently disabled from working
Physical pain and emotional distress
Loss of quality of life due to scarring/disfigurement or permanent disabilities impacting daily living
Do You Need an Attorney?
Just because you suffered a slip and fall accident while shopping on Black Friday does not automatically mean you are entitled to claim compensation. A slip and fall accident attorney can investigate the circumstances of the accident to identify the parties who can be held liable to you. An attorney can also document your injuries and losses to make sure you recover fair and full compensation. Finally, an attorney can handle settlement negotiations or litigating your claims in court, while you focus on your treatment and recovery.
Contact a Cherry Hill Personal Injury Lawyer to Discuss Your Slip and Fall Accident Case in New Jersey
Did you or a loved one sustain serious injuries due to a slip and fall accident in New Jersey? Don't let the medical bills pile up while you wait for the negligent party or their insurance company to do the right thing. Right now, you need an aggressive personal injury attorney on your side, fighting to get you the compensation you need, want, and deserve. The skilled attorneys at Begelman & Orlow represent clients injured because of slip and fall accidents in Voorhees, Lindenwold, Haddonfield, Collingswood, and throughout New Jersey. Call (856) 547-7400 or fill out our online contact form to schedule a free consultation about your case. We have an office conveniently located at 411 Route 70 East, Cherry Hill, NJ 08034, as well as offices in Feasterville, PA.
The articles on this blog are for informative purposes only and are no substitute for legal advice or an attorney-client relationship. If you are seeking legal advice, please contact our law firm directly.