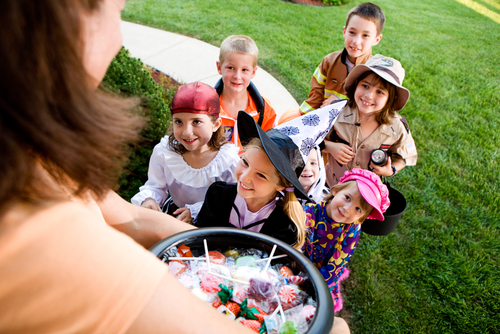 Halloween is just around the corner, and before you know it, kids will be showing up at your door in search of candy. Some families may dress up their own children and head out into the neighborhood to enjoy the festivities. Before you make your Halloween plans, it may be helpful to cover a few common accidents.
Common Halloween Accidents and How to Avoid Them
Here are a few of the most common Halloween accidents, and steps you can take to avoid them:
Car Accidents/Pedestrian Accidents: While a lot of trick or treaters will do so by foot, there also tends to be an increase in traffic and accidents on Halloween. Some families may travel to nearby neighborhoods for better candy. There may also be an increase in traffic as people attend Halloween parties on or around Halloween.
Slip and Falls: More foot traffic also leads to an increase in slips and falls. Children may trip and fall over their costumes. Adults who have been drinking may lose balance.
Dog bites: With more people in the neighborhood, there is also an increase in the number of dog bites.
Electrocution: Many households run wires to decorate their house in an attempt to make it the scariest on the street. This can lead to electrocution risks.
More people and vehicles out and about can increase the occurrence of accidents. Knowing the risks can help you drive safer and prevent other accidents from occurring.
8 Tips to Stay Safe This Halloween
Here are a few tips that you can use to keep your family safe this holiday:
Tip 1: Stay Alert
The best way to avoid car accidents this year is to be aware. Whether you are driving or walking, awareness is key in preventing an accident. Drivers should avoid using their phones, especially when in pedestrian-filled areas. Even pedestrians should take extra precautions and pay attention to roads when crossing them.
Tip 2: Be Seen
It's also important to be seen. Some Halloween costumes may be darker, which adds to the spooky element. Because it gets darker earlier, this can make it hard for drivers to notice pedestrians. Always wear bright colors, or place a piece of reflective tape over your child's costume so they are seen.
Tip 3: Avoid Alcohol
Avoiding alcohol until you're in the comfort of your own home may help you stay aware and safe. Alcohol reduces your reaction time and can make it hard to avoid accidents.
Tip 4: Keep Dogs Locked Up
Dogs can be unpredictable on Halloween. The noise and increase of visitors on your property can be overwhelming to them. This can make them act aggressively.
Tip 5: Lighten Up Your House
If you plan to welcome others to your home, be sure there is plenty of visibility with lights. This can also prevent break-ins.
Tip 6: Check all Candy and Drinks
It's always a good idea to check all candy, snacks, and drinks that you or your child brings into the home. This can prevent them from consuming bad candy.
Tip 7: Keep Off the Road
If possible, avoid driving on Halloween altogether. The increase of pedestrians and vehicles on the road can make things more dangerous, even when you're paying attention.
Tip 8: Remind Your Child of Safety Tips
Whether you plan on going trick or treating with your child this year, or they will go it alone, this is a good time to brush up on safety rules. Ensure they know how to recognize dangerous situations, as well as know what to do if they are presented with one. A quick reminder can keep these tips at the top of their minds.
Contact a Cherry Hill Personal Injury Lawyer to Discuss Your Halloween Injury Case in New Jersey
Did you or a loved one sustain serious injuries due to an accident in New Jersey? Don't let the medical bills pile up while you wait for the negligent party or their insurance company to do the right thing. Right now, you need an aggressive personal injury attorney on your side, fighting to get you the compensation you need, want, and deserve. The skilled attorneys at Begelman & Orlow represent clients injured because of an accident in Camden, Cherry Hill, Gloucester Township, Winslow, and throughout New Jersey. Call (856) 547-7400 or fill out our online contact form to schedule a free consultation about your case. We have an office conveniently located at 411 Route 70 East, Cherry Hill, NJ 08034, as well as an office in Conshohocken, PA.
The articles on this blog are for informative purposes only and are no substitute for legal advice or an attorney-client relationship. If you are seeking legal advice, please contact our law firm directly.