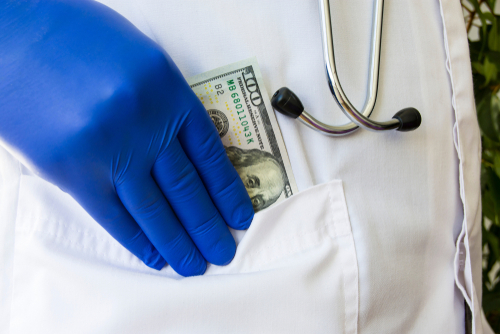 Medical billing fraud represents a serious problem in our healthcare system. Billing fraud results in millions of dollars of financial waste that is borne by the government through the Medicare and Medicaid systems and by private health insurers, ultimately raising costs for taxpayers and subscribers to health insurance.
When healthcare providers engage in medical billing fraud with Medicare and Medicaid or other government healthcare programs, they may be held liable under the False Claims Act. This statute incentivizes those with knowledge of medical billing fraud to come forward as whistleblowers and to report such fraudulent schemes.
Examples of some of the most common types of billing fraud include:
Upcoding
Upcoding involves sending a bill to Medicaid/Medicare or a private health insurer to charge for a more expensive service than the service actually rendered by the provider. Medicare/Medicaid and health insurers classify healthcare procedures by codes. By upcoding, a provider reports a code for a more expensive service than the one that was performed. Upcoding fraud may also include behavior such as:
Claiming that a procedure took longer to perform that it actually did
Claiming that additional materials or equipment were used in a procedure when they weren't
Falsely claiming that staff members were involved in a procedure when they weren't
Performing and billing for procedures that a patient did not need
Increasing the risk profile of a Medicare patient, which results in larger payments to the provider
Unbundling
In an unbundling scheme, a provider bills for multiple different procedure codes for a group of procedures that were actually performed. However, under Medicare/Medicaid or the insurer's rules, that group of procedures should actually be billed under a single code that encompasses the group of services. A provider may seek to unbundle a group of services because the reimbursement for each individual procedure, when added up, is greater than the reimbursement the provider would receive if they properly billed under the single group code.
An example of unbundling involves a provider performing several laboratory tests for a patient that are commonly grouped as a panel and fall under a single billing code. The provider may try to increase their reimbursement by submitting claim codes for each individual test in the panel.
Billing for Nonexistent Services
Finally, one of the most common claims of medical billing fraud that appears in False Claims Act cases is billing Medicare/Medicaid for services that were not performed or equipment or materials that were not used or delivered to the patient. Providers may bill for nonexistent services by fabricating a patient identity and then billing for services allegedly performed for the patient. Or a provider may use a real patient's record and simply bill for services that were never provided to the patient. In some cases, the patient may not have even been in the provider's facility when the service was allegedly performed. Finally, a provider may bill for two services performed for a patient when in reality only one of those services was provided to the patient.
Read more: Overview of Who Can File a Qui Tam Lawsuit
Contact a Cherry Hill Fair Claims Act Lawyer to Discuss Your Case in New Jersey
If you know of persons or companies who have made false or fraudulent charges or expenses against government funds, you can bring a suit to hold those parties accountable. Right now, you need an aggressive attorney on your side, fighting to hold parties who defraud the government accountable for their actions. The skilled attorneys at Begelman & Orlow, P.C. represent clients in qui tam suits in Camden, Gloucester Township, Winslow, Pennsauken, and throughout New Jersey. Call (856) 547-7400 or fill out our online contact form to schedule a consultation about your case. We have an office conveniently located at 411 Route 70 East, Cherry Hill, NJ 08034, as well as offices in Feasterville, PA.
The articles on this blog are for informative purposes only and are no substitute for legal advice or an attorney-client relationship. If you are seeking legal advice, please contact our law firm directly.