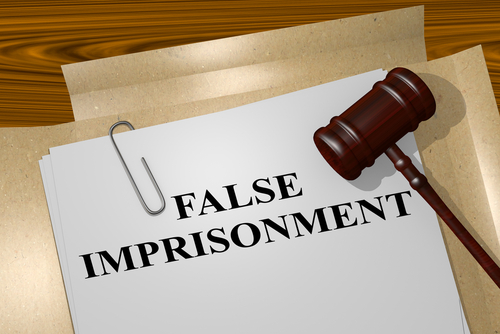 What is False Imprisonment?
In certain circumstances, a store is allowed to briefly detain someone they suspect of shoplifting to determine if their suspicions have any merit. But just like any right, this one has boundaries. When a store detains someone in an unreasonable manner or for an unreasonable amount of time, the suspected shoplifter might then have a legal claim for false imprisonment. So what is a false imprisonment claim, and how does it apply to shoplifting accusation situations? Here is a short guide to shoplifting, the shopkeeper's privilege, and false imprisonment claims. 
Shopkeeper's Privilege
One of the more historical common law rules that still exist in American law is that of the shopkeeper's privilege. This rule says that a store (and by their employees like management, security, etc.) has the right to briefly detain someone that they reasonably suspect of shoplifting from their establishment. Most states now have statutes that more specifically define what the store can and cannot do, with the most common ending point being when law enforcement arrives to take over the investigation. But law enforcement is not involved in all of these shoplifting suspicion situations, so when does the shopkeeper's privilege end then?
Unlawful Detainment and Reasonableness
Like all rights, the shopkeeper's privilege has its limits. That limit usually comes down to what is reasonable under the circumstances. If the store detains someone for a long period of time without contacting the police, a false imprisonment claim may be the result. In addition, if the store puts the person under any physical restraints or keeps them in a locked room for a significant amount of time, this can also play into the claim. The detained person still has rights, no matter what suspicions they may be under from the store and its employees, such as the right against unlawful search and seizure.
False Imprisonment Claims
To successfully collect from a false imprisonment lawsuit, the plaintiff must meet the following elements:
That the store (or an agent/employee) intended to detain the individual
That you were actually detained in boundaries not of their choosing,
That the person was aware that they were being detained against their will
A causal link
The detainment does not necessarily need to be physical, it can be through threatening words or body language. These cases, of course, are fact specific and vary case to case. Many times, a false imprisonment claim comes down to what the individual believed at the time and whether or not their beliefs and the detainment was reasonable. If the circumstances suggest that store's actions were not reasonable, this is when an individual should seek legal help.
Seek Legal Help
Because false imprisonment cases are so fact specific, you will probably need the help of a criminal defense attorney to help determine if you have a valid claim. This is especially important if you are looking to file a suit against a big corporation, as they have huge resources and hired legal help of their own. They will protect your rights and be your advocate every step of the way. 
Contact a Cherry Hill Criminal Defense Lawyer To Discuss Your False Imprisonment Case Today!
Did you experience false imprisonment? A qualified criminal defense attorney can help. The attorneys at Begelman & Orlow, P. C. have successfully represented clients nationwide. Call 866-627-7052 or fill out the online contact form to schedule a consultation with a member of our legal team. We have an office conveniently located at 411 Route 70 East, Cherry Hill, NJ 08034 as well as offices located in Feasterville, PA.
The articles on this blog are for informative purposes only and are no substitute for legal advice or an attorney-client relationship. If you are seeking legal advice, please contact our law firm directly.
Disorderly conduct consists of any improper behavior such as fighting, threats of violence, or creating a dangerous atmosphere.