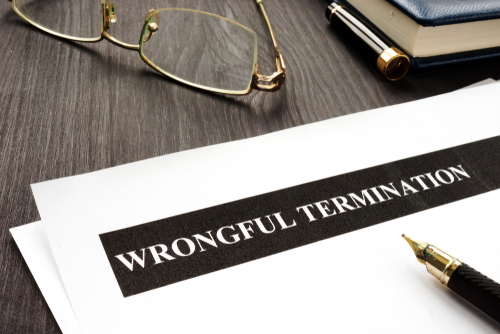 What is Wrongful Termination?
Being let go from a job is an awful feeling. In many cases, a company does not need a reason to fire an employee, and when it happens the employee often does not have any recourse. But there are laws that were created to protect the American worker under certain circumstances, and if an employer breaks these, the fired person can sue them for wrongful termination. Here is a short guide to activity that can lead to a wrongful termination lawsuit, and what you should do if you find yourself in a similar situation. 
Illegal Discrimination
Federal law prohibits discrimination for a number of protected groups, and that includes firing practices. It is illegal to fire a person based on their race, gender, national origin, religious orientation, genetic makeup, pregnancy status, and age (if they are over 40).
Retaliation And Whistleblowing
It is also illegal to fire someone in retaliation if they engage in protected activities, like filling a report with the Equal Employment Opportunity commission (EEOC) or the Occupational Safety and Health Administration (OSHA). This only makes sense. The law wants to protect employees who act as whistleblowers for their employer's illegal activities to encourage them to report such actions. In addition, some states have laws that say a company is also prohibited from firing someone just because they filed a workers' compensation claim for an on the job injury or illness. Those who must serve on juries or attend to their military duties are also protected from retaliatory firing practices. 
Employment Contract Violations
If you are fired but are not part of a protected class or engaged in protected activity, you may still be able to file a wrongful termination lawsuit based on your employment contract. Most people must sign one when they first begin a job, and the employer must abide by its terms just as much as the worker does. If your employer violates a term or clause of this contract, this is also a basis for a lawsuit. A good example is disciplinary and termination policies. If the company has a detailed and specific way that it investigates misconduct, they are obliged to abide by those guidelines for the firing process. If they do not, you may be able to file a wrongful termination lawsuit. 

Seek Legal Help
If you believe you were wrongfully fired by your employer and think a lawsuit is in order, it is important that you seek the advice of an experienced employment law attorney before proceeding. Your former employer will likely have resources, both financial and legal, that the average person just does not have. An employment lawyer will help you decide if litigation is the best course of action, and will be your advocate and defender every step of the way. 
Contact An Employment Attorney To Discuss Your Case Today!
Are you the victim of wrongful termination in New Jersey or Pennsylvania? The law says that you have rights, and now, you need an experienced employment attorney on your side, fighting to get you the compensation you need, want, and deserve. The skilled attorneys at Begelman & Orlow, P.C. represent clients in employment cases throughout New Jersey and Pennsylvania. Call 866-627-7052 or fill out our online contact form to schedule a consultation about your case. We have an office conveniently located at 411 Route 70 East, Cherry Hill, NJ 08034.

The articles on this blog are for informative purposes only and are no substitute for legal advice or an attorney-client relationship. If you are seeking legal advice, please contact our law firm directly.