Americans With Disabilities Act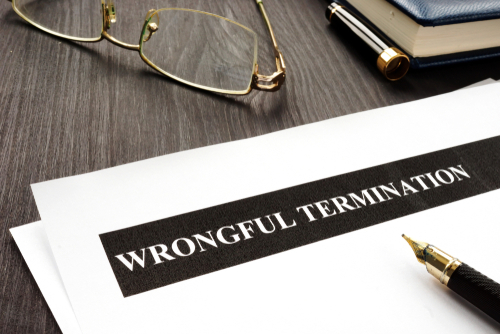 If you have a documented disability, you have legal rights under the Americans With Disabilities Act that include employment protection. If you are terminated because of your disability, you have the right to bring a civil suit against your employer to recover damages. However, each case is different, and the particular circumstances of your situation determines whether you do or do not have a case against the company. Here is a short guide to the Americans With Disabilities Act as it applies wrongful termination and discrimination.
The Law
The Americans With Disabilities Act (or the ADA) is a law that details what individuals with a disability are federally protected from discrimination. This law applies to every state. Employers are required to make "reasonable accommodations" for those with disabilities, and if they don't, they can be liable for damages. Usually a disability under the ADA is for those with long-term severe disabilities, those individuals that have dealt with a physical or mental impairment that substantially limits their everyday lives.

"Reasonable accommodations" means that the employee is entitled to job protection as long as their disability does not place extreme cost or strain on the company. Accommodation may include modifying equipment for easier employee use, providing readers or interpreters for the visually and hearing impaired, providing ramps and other equipment for easier physical accessibility, and a number of other measures. As long as you can perform the essential functions that the job requires, the ADA protects you!
Types of Disability
Both physical and mental disabilities are covered by the ADA. Physical disabilities limit everyday life functions in a substantial way, like limiting your ability to walk, hear, see, speak, and perform everyday manual tasks that you need help to manage. These are the disabilities most people think of when they think of ADA protection. Physical disabilities can be medical, too, and not as obvious as someone who is para or quadriplegic, for example. Immune system disorders and other medical conditions that affect a person's daily operations in a way that might not be so obvious are also protected. In these cases, keeping good medical documentation helps employees not only prove disability protection, but recover damages in the case of wrongful termination. 

So if you are protected by the ADA, what practices are outlawed? Well, all of the normal employment operations. These include hiring, firing, recruiting, promotions and salary, time off, et cetera. If you have a disability and any of these aspects are negatively affected by your employer without proper cause, you will have a case for damages under this federal law.
Seek Legal Help!
If you have a disability and are unfairly terminated or discriminated against, contact an employment lawyer as soon as possible. An experienced attorney will know what documentation and other evidence to gather to make sure that you get the most amount in damages that you possibly can. Most companies have their own attorneys to dispute such claims, so don't go into the fight alone!
Contact A New Jersey Lawyer to Discuss Your Wrongful Termination Case Today!
If you have been wrongfully terminated by your employer, it is critical to have an aggressive employment law attorney on your side to fight for your rights and get you the compensation you deserve. The skilled attorneys at Begelman & Orlow, P. C. represent clients in wrongful actions and discrimination suits in New Jersey and Pennsylvania. Call 866-627-7052 or fill out our online contact form to schedule a consultation about your case. We have an office conveniently located at 411 Route 70 East, Cherry Hill, NJ 08034, and other at 101 West Elm Street, Conshohocken, PA 19428.

The articles on this blog are for informative purposes only and are no substitute for legal advice or an attorney-client relationship. If you are seeking legal advice, please contact our law firm directly.