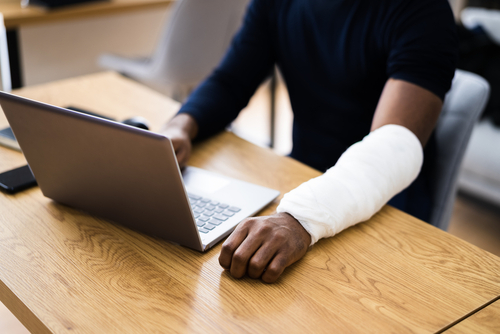 If you suffer a work injury or an occupational illness in Pennsylvania, you may be entitled to collect workmans' comp benefits through your employer. As an employee on workers' comp, you should familiarize yourself with the system's rules to understand how long you may be eligible to collect benefits. Continue reading to find out how long workers' comp benefits last in Pennsylvania.
How Long Do You Get Medical Benefits?
Under Pennsylvania's workers' compensation system, you are entitled to medical benefits, which include payment for all reasonable and necessary medical treatment for your work injury or occupational illness. Medical benefits can continue for as long as reasonable and necessary treatment is recommended by your treating physician. However, obtaining coverage for treatment may become harder after you've reached maximum medical improvement, or the point at which no further treatment is expected to improve your condition. After you've reached MMI, medical benefits may be limited to pain management or other palliative care.
How Long Do You Get Wage Loss Benefits?
If you have to miss time from work due to a work-related injury or illness, you are entitled to receive wage loss benefits, which are equal to two-thirds of your pre-injury/illness average weekly wage. Wage loss benefits can continue for up to two years, at which point your employer can request that you submit to an impairment rating evaluation to determine whether you remain disabled and determine the extent of your disability.
How Long Can You Be on Light Duty or Modified Work?
When you've had a work injury or occupational illness that renders you unable to perform the duties of your job as you did prior to your injury or illness, your employer may choose to provide you with light duty or modified work, as an alternative to missing work altogether. Light duty or modified work may include a reduction in the number of hours that you work or a restriction in the duties that you perform consistent with the restrictions and limitations identified by your treating physician. Light or modified duty may pay you at or below your pre-injury/illness average weekly wage.
Your employer is not obligated to provide you with light duty or modified work, and may remove you from such duty or work at any time after offering it to you. However, if you're removed from light duty or modified work due to no fault of your own, you may be entitled to resume your previous total wage loss benefits.
How Long Do Disability Benefits Last For?
If after an impairment rating evaluation you are determined to be less than 50 percent disabled, you may be entitled to collect partial disability benefits, which represent a continuation of wage loss benefits you were previously receiving. Partial disability benefits can continue for up to 500 weeks.
If you are found to be permanently and totally disabled, you might be entitled to receive wage loss benefits for the rest of your life. However, you may also be required to occasionally submit to new impairment rating evaluations to determine whether you continue to remain permanently and totally disabled from performing any gainful employment.
Contact a Feasterville Workers' Compensation Lawyer to Discuss Your Pennsylvania Workplace Injury Case
A workplace injury can be devastating, particularly if it prevents you from returning to work for an extended period of time. Although Pennsylvania Workers' Compensation laws are supposed to provide you with reimbursement for medical expenses and replacement pay for missed time at work, it is not always easy to get the Workers' Comp benefits you deserve. That is why you should speak with a knowledgeable Workers' Compensation lawyer about your situation and get guidance throughout the claims process. The experienced Workers' Compensation attorneys at Begelman & Orlow represent clients in Feasterville, Willow Grove, Bristol, Horsham, and all across Pennsylvania. Call 866-627-7052 or fill out our online contact form today to schedule a consultation about your work injury case. Our main office is located at 411 Route 70 East, Cherry Hill, NJ 08034, and we also have offices in Feasterville, PA.
The articles on this blog are for informative purposes only and are no substitute for legal advice or an attorney-client relationship. If you are seeking legal advice, please contact our law firm directly.