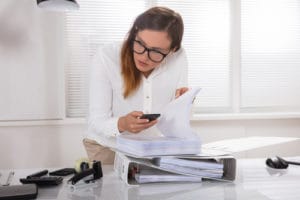 A former office manager pleaded guilty recently to stealing over $500,000 from her employer, a Hamilton engineering company, according to a recent article at NJ.com.
The former manager worked at the company from 2004 to 2017. She pled guilty in Mercer County Superior Court to charges that between January 2012 and April 2017, she paid herself unauthorized reimbursements from the company's funds, altering company accounting and payroll records in an attempt to hide her activities.
An investigation by a Hamilton detective and a forensic auditor from the New Jersey Division of Taxation led to charges being filed against the woman in May 2017. Following the guilty plea, prosecutors recommended a three-year prison term and restitution of $516,714.
"White-collar crimes" like fraud and embezzlement don't sell news media the way more violent crimes often do, but charges of fraud or embezzlement are just as serious. Penalties for a fraud conviction can include years in prison, the requirement to pay restitution, and other penalties – including the burden of a felony record. Having an experienced defense lawyer on your side helps you fight back and protect your legal rights.
The team at Begelman & Orlow includes an attorney who, as a former deputy attorney general, investigated, indicted, and prosecuted white collar crimes – giving our team a nuanced understanding of how these charges are developed and how to address them.
In addition, our law firm is one of the few at the forefront of filing federal False Claims Act and qui tam cases. This specialized area of fraud law expands our knowledge and experience base, allowing us to address each client's case effectively and thoroughly.
Allegations of fraud are a serious matter. The experienced New Jersey and Pennsylvania fraud attorneys at Begelman & Orlow can help. To learn more, contact our office today by calling our toll-free number: 866-627-7052.
The articles on this blog are for informative purposes only and are no substitute for legal advice or an attorney/client relationship. If you are seeking legal advice, please contact our law firm directly.