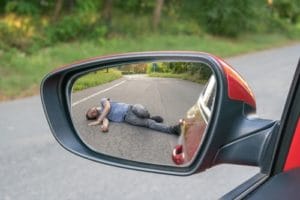 One of the most horrifying thoughts for any pedestrian is that they might be struck by a vehicle while walking. Pedestrians rely on drivers to be cognizant of them and to yield when necessary. However, when a driver is under the influence of drugs or alcohol, the driver probably won't be able to exercise the same judgment as they would when sober. In both Pennsylvania and New Jersey, any pedestrian struck by a vehicle has rights that allow them to seek compensation for injuries and damages when the driver acted negligently.
Negligence Per Se and DWI Accidents in Pennsylvania and New Jersey
In Pennsylvania and New Jersey, one of the most powerful tools available to a pedestrian who has been hit by a drunk driver is negligence per se. Negligence per se is a legal principle that finds an individual negligent if they are determined to have violated a criminal statute that resulted in harm to someone who the statute was designed to protect. If negligence per se is effectively pleaded – meaning that the definition above is proven – then the offending party may be found negligent.
In a civil trial, damages for negligence can often be much larger than those related to pain and suffering. This means that pedestrians struck by drunk drivers in Camden, Cherry Hill, Gloucester Township, or anywhere else in South Jersey will likely seek to prove that the driver was negligent. In the absence of a DUI conviction, the pedestrian must prove that the driver breached his or her duty of care. The pedestrian must also prove that the breach of duty caused their injury and resulted in damages. Although it may seem obvious that a drunk driver would also be considered negligent, proving all the elements of negligence is actually a lot more work for the pedestrian accident victim's attorney. This also provides more chances for the driver's attorney to challenge and undermine the victim's claims.
The Benefit of Negligence Per Se in New Jersey DUI Cases
With a DUI conviction in hand, a pedestrian may be able to move directly to arguing the amount of their damages. That is because the law of negligence per se allows the pedestrian to skip proving all of the elements of the standard negligence claim. This provides a significant benefit to the pedestrian, who does not have to spend the same amount of time building a case and who is likely to see compensation for their DWI accident injuries more quickly than they otherwise would.
The availability of negligence per se is also a powerful tool in negotiation. The attorney for the pedestrian has more leverage to extract a larger settlement from the insurance company and/or the driver, and can potentially do so without ever needing to go to trial.
Contact the Experienced Cherry Hill DWI Accident Lawyers at Begelman & Orlow Today
If you have been struck by a drunk driver as a pedestrian, the law is in your favor. Do not, however, let the law fail to be as favorable as it could be by allowing the insurance company and their attorneys to strong-arm you into a settlement. Even clear cases of negligence, such as straightforward DWI accident cases, benefit from experienced legal counsel. The Cherry Hill DWI accident attorneys with Begelman & Orlow will not hesitate to take on the insurance company and make sure that you receive the full and fair compensation to which you are entitled. If you are a pedestrian who has been struck by a drunk driver in New Jersey or Pennsylvania, call (856) 547-7400 or email us to schedule a consultation and see what a difference we can make for you. We have an office located at 411 NJ-70, Cherry Hill, NJ 08034, as well as an office located in Conshohocken, PA.
The articles on this blog are for informative purposes only and are no substitute for legal advice or an attorney-client relationship.  If you are seeking legal advice, please contact our law firm directly.