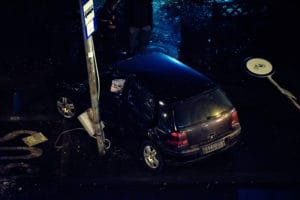 While modern technology has made driving a much safer activity than in the past, driving is still fairly dangerous especially when conditions are not ideal. Driving at night is considered more dangerous because darkness reduces a person's overall ability to utilize their vision, depth perception, peripheral vision and color recognition. High-beam headlights help but visibility for drivers is still limited to about 500 feet.
Tips to Keep you Safe on New Jersey's Roads at Night
The best thing drivers can do at night is ensure their headlights are clean and working correctly. It's important to never drive distracted and to keep your eyes away from oncoming lights. Staring into another driver's headlights can cause temporary blind spots or blindness. Although this effect only occurs for a few seconds, these seconds are critical when you are behind the wheel. This temporary blindness can cause car accidents. Drivers in need of glasses should always wear anti-reflective lenses at night, and all drivers should regularly clean their windshield to avoid streaks and impaired vision at night. Another good tip is to dim your dashboard lights to help avoid eye strain.
Contact New Jersey's Car Accident Attorneys at Begelman & Orlow Today
While these tips are helpful, sometimes accidents are unavoidable. If you've been in a car accident as a result of someone else's negligence, then you may be entitled to compensation for your losses in court. Reaching out to an attorney can help you maximize this compensation. To learn more about the services provided by the car accident attorneys at Begelman & Orlow, leave your contact information and a brief description of your legal concern on this online form.
The articles on this blog are for informative purposes only and are no substitute for legal advice or an attorney-client relationship. If you are seeking legal advice, please contact our law firm directly.