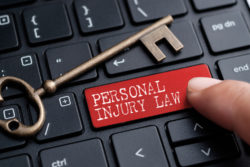 Suffering an injury in an accident can change your life in a matter of seconds. You could wind up suffering severe injuries that lead to missed time at work or even last for the rest of your life. Disability is also not out of the question when involved in an accident. If you ever find yourself injured in any type of accident, it's important to meet with a personal injury attorney. In today's post, we will discuss how you should prepare for that initial meeting so you have the information and documents necessary for the attorney to review.
Information Required for Initial Meeting
There is a lot of information you will need to bring with you for the initial meeting with a personal injury attorney. This information will play a key role in how the attorney investigates your case and proceeds with filing a lawsuit or working towards a settlement with the at-fault party or parties. The information you will need to bring with you includes the following:
Name of the hospital where you were admitted and the address
Name of the emergency room where you were taken after the accident
Name and contact information of ambulance service that transported you from the accident
The date you were taken to the emergency room and the dates in which you were in the hospital
Names of every person involved in the accident
Name and address of any medical specialists you've seen since the accident
Name and address of all doctors who have cared for you since the accident
Names and contact information of everyone who witnessed the accident
List of dates where you missed time at work
Name and contact information of every insurance adjustor with whom you've spoken
List of all the people you've talked to regarding your injuries and the accident
Documents to Bring to Initial Meeting with Attorney
Aside from the slew of information listed above, you will need to bring a host of documents with you to the initial meeting with the personal injury attorney of your choosing. All of these documents will be used by the attorney to review every aspect of the case and provide you with an honest assessment. The documents needed for the initial meeting include all of the following:
Copies of all statements that have been written
The accident or police report
The auto policy you have and the declaration page if the accident involved your vehicle
The renter's or homeowner's policy with declarations page if the accident involved property
Disability insurance or medical policy and declarations page
Major medical, veterans, or hospitalization policies and declarations pages
Any and all communication you have received from an insurance company about the accident or the injuries you suffered
Copies of all medical bills stemming from the accident
Receipts for anything you needed to fix due to damage from the accident
Receipts for anything you needed to buy due to the accident (medical equipment, etc)
Depending on what the personal injury attorney requires this might not be an exhaustive list of documents needed. Make sure you ask for what is needed prior to arriving at the office for your first visit.
Contact a Cherry Hill Personal Injury Lawyer to Discuss Your Car Accident Case in New Jersey
Did you or a loved one sustain serious injuries due to an auto accident in New Jersey? Don't let the medical bills pile up while you wait for the negligent party, or their insurance company, to do the right thing. Right now, you need an aggressive personal injury attorney on your side, fighting to get you the compensation you need, want, and deserve. The skilled attorneys at Begelman & Orlow represent clients injured because of a motor vehicle accident in Camden, Cherry Hill, Voorhees, Collingswood and throughout New Jersey. Call 856.428.6020 or fill out our online contact form to schedule a  consultation about your case. We have an office conveniently located at 411 Route 70 East, Cherry Hill, NJ 08034 as well as offices in Conshohocken, PA. 
The articles on this blog are for informative purposes only and are no substitute for legal advice or an attorney-client relationship. If you are seeking legal advice, please contact our law firm directly.