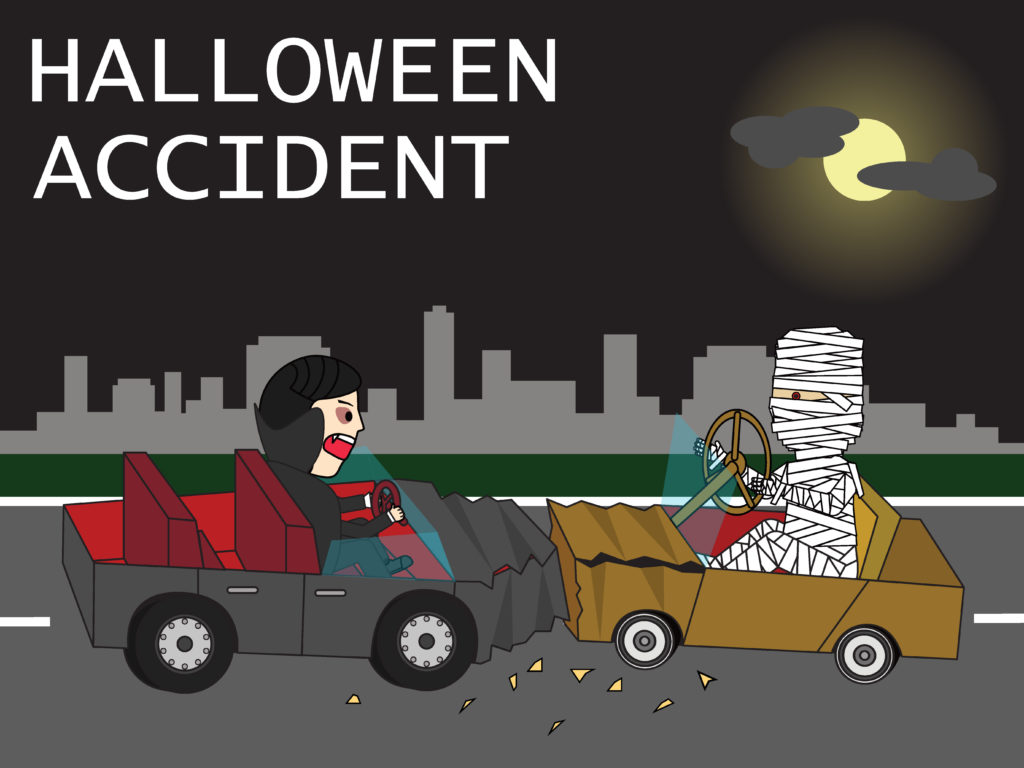 Halloween is right around the corner and soon, the streets will be filled with trick-or-treaters. Unfortunately, with the increase of children on foot, many areas will also notice an increase in car accidents. Make sure you and your family have the safest Halloween possible with these tips to n avoid car accidents on the scariest night of the year.
Halloween Safety Tips for Drivers
Avoid driving while under the influence: Many Halloween celebrations will often include the consumption of alcoholic drinks. However, it is best to avoid drinking and driving entirely during this time of year. The reduced reaction time paired with an increase of people on the road can lead to a dangerous situation.
Be extra vigilant: Many drivers become accustomed to their neighborhoods and roads. This means if you live in a quiet area, you have probably become comfortable with few people on the road. Be extra vigilant on and around holidays, knowing that this trend can change during certain times of the year, including Halloween.
Avoid distractions: Distracted driving can also be a problem during this time of year. It's important to be extra careful and avoid distractions. This also means backseat distractions, as you drive your kids or friends to a Halloween party.
Wear proper attire when outdoors: Parents can also ensure that their children stay safe on the road, by checking that their children's costumes are visible, even in the dark. Avoid dark colors and consider reflective accessories, when necessary. Dark costumes paired with nighttime activities can lead to an increase in risk.
Drivers should take extra caution when driving on Halloween. Stopped cars can mean that parents are dropping kids off in the neighborhood. This is also a good time to check that your brake and headlights are working properly. Always follow local laws and street signs, including slower speed limits in residential areas.
Both pedestrians and vehicle drivers should be extra aware during Halloween celebrations. While the state expects drivers to be aware of pedestrians, it is the pedestrians who usually experience the worse of the injuries. Children are less likely to pay attention, especially when surrounded by their friends. Carefully attention from both parties is important in preventing auto accidents on Halloween.
When to Contact a Lawyer for a Car Accident on Halloween
Unfortunately, even with extra precautions, car accidents will still occur on Halloween. If you or a family member is injured in a car accident and suffer significant injuries, then it may make sense to reach out to a New Jersey personal injury lawyer. The recovery from a car accident can be expensive. One of our experienced car accident attorneys will help you build your case, fighting for the compensation that you deserve. Whether the accident was caused by a driver who was under the influence or distracted, we will help you get to the bottom of what happened. Halloween should be a fun time of year. It should not be ruined by a careless or negligent driver. Let us help you navigate your car accident case by getting you the compensation that you need to recover.
Contact a Winslow Personal Injury Lawyer to Discuss Your Car Accident Case in New Jersey
Did you or a loved one sustain serious injuries due to a car accident in New Jersey? Don't let the medical bills pile up while you wait for the negligent party or their insurance company to do the right thing. Right now, you need an aggressive personal injury attorney on your side, fighting to get you the compensation you need, want, and deserve. The skilled attorneys at Begelman & Orlow, P.C. represent clients injured because of a car accident in Camden, Cherry Hill, Gloucester Township, Winslow, and throughout New Jersey. Call (856) 547-7400 or fill out our online contact form to schedule a consultation about your case. We have an office conveniently located at 411 Route 70 East, Cherry Hill, NJ 08034, as well as an office in Feasterville, PA.
The articles on this blog are for informative purposes only and are no substitute for legal advice or an attorney-client relationship. If you are seeking legal advice, please contact our law firm directly.