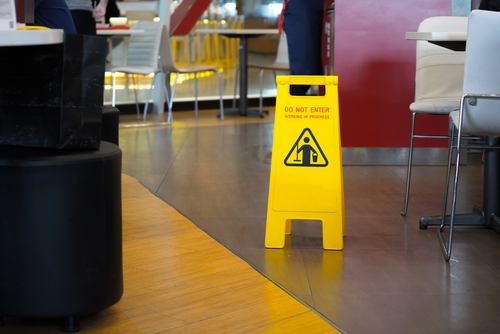 Things can quickly change when an anticipated visit to your favorite restaurant turns into a painful injury. One minute you are looking for the restroom and the next you are flat on your back in pain. Now what? Who will pay for your medical care? What about the time you will have to take off from work?
These are all important considerations that should be handled carefully following a slip and fall accident.
Important Steps to Take Following a Slip and Fall at a Pennsylvania Restaurant
If you slip and fall at your favorite Pennsylvania restaurant, follow these important steps:
Take Note of Your Condition
If you injure your back or neck when slipping and falling, it is best to not move your body. Take an initial note of your condition. If you need help, notify the restaurant that you would like them to call an ambulance. Even if you are able to get up and move, it may be beneficial to be taken to the local hospital. This ensures that there aren't any injuries that could worsen over time.
Task a Friend With Collecting Evidence
If you are in pain, you will likely head right to the local hospital. To best protect your case, it may be important to collect certain evidence. Some evidence, like witness information or the cause of the slip and fall, may not be possible to collect later. If possible, take photographs or video evidence of the situation that led to you to slip and fall. You don't want the restaurant to clean it up after you leave if your injury was due to a mistake they made.
Receive Medical Care
Your safety and wellbeing are a priority. Receive immediate medical care and worry about the rest later. Always be honest with the medical providers about any pre-existing conditions you might have. Inform them of any symptoms you are having, including head pain or loss of feeling in your arms or legs.
Talk to the Manager
It is possible that the manager or owner will already be aware of the accident, especially if they were on-site when it occurred. However, if they are not, you want to notify them as soon as possible. If possible, try not to rely on someone else notifying them. You want to be as detailed as possible when telling them about the slip and fall accident.
This allows them to possibly repair the situation to prevent another person from experiencing a similar injury. While you should notify them, you don't need to discuss your injuries in detail.
Discuss Your Case With a Personal Injury Lawyer
Before discussing your recovery with the restaurant, or their legal team, it may be beneficial to discuss your case with your own personal injury lawyer. Anything that you say to the restaurant's legal team or even the restaurant owner may be used against you later. If you find out that your injuries are worse than you expected, you may rely on their compensation to assist with recovery.
Contact a Feasterville Personal Injury Lawyer to Discuss Your Slip and Fall Case in Pennsylvania
Did you or a loved one sustain serious injuries due to a slip and fall in New Jersey? Don't let the medical bills pile up while you wait for the negligent party or their insurance company to do the right thing. Right now, you need an aggressive personal injury attorney on your side, fighting to get you the compensation you need, want, and deserve. The skilled attorneys at Begelman & Orlow represent clients injured because of a slip and fall in Feasterville, Conshohocken, and throughout Pennsylvania. Call 866-627-7052 or fill out our online contact form to schedule a free consultation about your case. We have an office conveniently located at 359 East Street Rd
Feasterville, PA 19053-7711, as well as an office in Cherry Hill, NJ.
The articles on this blog are for informative purposes only and are no substitute for legal advice or an attorney-client relationship. If you are seeking legal advice, please contact our law firm directly.