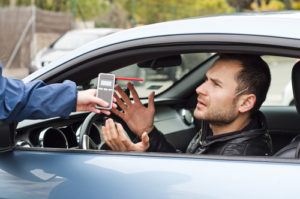 Cell phones can be an enormous distraction after one gets behind the wheel of the car, however, that does not mean it cannot also help you avoid potential DUIs before you get into your vehicle. A new device has been developed that can help discreetly monitor a person's blood alcohol levels and transmit that information straight to their cell phone. By using a tiny wearable device that has been compared to a temporary tattoo directly on a person's skin this patch can stimulate perspiration on the wearer's body which in turn allows it to measure the level of alcohol that can be found in the system of the person wearing it.
Within Minutes, the Biosensor Patch Can Measure Your Alcohol Levels
While most compare the new technology to a temporary tattoo, it is really a biosensor patch which contains a number of flexible wireless parts. One specific part unleashes a chemical substance that causes the wearer to perspire on the skin under where the patch is located. A separate component is able to diagnose the sweat that is created and is able to measure the actual level of alcohol contained in the bloodstream and in turn, sends those results to an app on the user's phone. This amazing process can be completed in around 8 minutes which is a great benefit for those who want or need to know that they are able to get back on the road safely in a reasonable amount of time.
Discreet Nature of the Product is What Makes it Stand Out from the Rest
This is clearly not the only alcohol measuring device that is available to those who are concerned with this issue, however many of the other breathalyzer type devices or items that you can wear are not as easy to conceal from others and are often found to be bothersome or more trouble than they are worth. The technology for this new device may be the same, yet the fact that it is able to get you the results so quickly while being something you could wear without anyone else even noticing it is what makes this product stand out from the rest and makes it more appealing to those who wish to own it.
New Jersey Has Strict DUI Laws but You Still Have Your Rights; Consult a Qualified Attorney Today and Set Up a Free Consultation
The laws surrounding DUI's as well as the technology are ever changing which is why you need a knowledgeable attorney who will stand up for your rights in court. Contact the attorneys at Begelman & Orlow for a free consultation to get started on your case today. Our toll-free number is 866-627-7052.
The articles on this blog are for informative purposes only and are no substitute for legal advice or an attorney-client relationship. If you are seeking legal advice, please contact our law firm directly
Related Blogs: