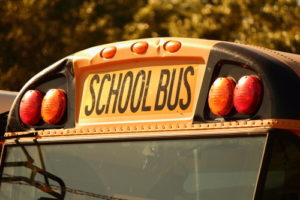 Injuries arising from motor vehicle accidents may not be apparent right away. It's important for victims to research their legal options regarding restoring the financial losses they incurred due to the accident.
Multi-Bus Chain Reaction Crash Puts 20 Children in New Jersey's Hospitals
Around 100 people, mostly children, were aboard five school buses traveling back home after a day at JCC Medford Day Camp when a chain reaction collision occurred. It's not immediately apparent what made the leading bus driver initiate his breaks causing the multi-bus crash, and police investigators have yet to make any comments regarding fault in this motor vehicle accident.
Thankfully, no one was critically injured in the accident. At least 21 of the summer camp kids, however, did sustain personal injuries that required medical treatment at a hospital. Two bus drivers were among those injured and transported to a nearby medical facility. Officials say the Medford Township Traffic Safety Unit will be further examining the evidence to make a determination about what led to this crash. The company who owns and operates the buses involved in this accident, the Safety Bus Company, has not made a statement about the incident.
Contact New Jersey's Top-Rated Car Accident Attorneys at Begelman & Orlow
With a combined 115 years of experience fighting for clients injured in car accidents, the personal injury attorneys at Begelman & Orlow know exactly what it takes to prove fault, argue your claims in court and maximize your overall compensation award. We take our cases very seriously, and we will aggressively pursue compensation from the responsible party. Leave your name, contact information and a short message regarding your legal issue on our online message system, and we will reach back out to you as soon as possible.
The articles on this blog are for informative purposes only and are no substitute for legal advice or an attorney-client relationship. If you are seeking legal advice, please contact our law firm directly.
Related Blogs: