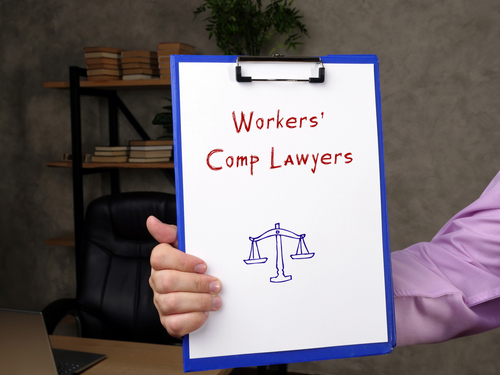 Despite how careful you are in the workplace, accidents are always a possibility, especially in some industries. Most people don't know how to navigate a workplace injury and don't learn how to until they are injured in the workplace themselves. This guide will help you learn everything you need to know about filing a workers' compensation claim.
Read more: What is Considered a Workers' Compensation Injury?
What is Workers' Compensation?
Workers' compensation is a program set up to protect employees in the event that they are injured while working. The program is designed to help employees with their medical bills and lost wages, so they can recover from the injury without financial difficulties.
Most employers in New Jersey are required to carry workers' compensation insurance. This means if you are injured on the job, you should have access to workers' compensation benefits.
How Does Workers' Compensation Work?
You suffer an injury at work. Now what? Does workers' compensation automatically cover all your costs? Do you have to visit a certain medical provider? These are all common questions that employees often have about workers' compensation benefits.
If you are injured on the job, you should receive medical care immediately. This might mean going to the nearest hospital or even calling for emergency help. Don't worry about the provider you see yet, as your health and wellbeing are most important.
Once you have received immediate medical care, it is time to report the accident to your employer, if they don't already know about it. This begins the process of filing a claim, which will make you eligible for benefits. You and your employer will work together with your doctors to determine when it is appropriate to return to work.
Read more: Worker's Compensation and Covid-19
What Happens If I am Denied Benefits?
Filing the claim should begin the process of receiving benefits. However, the workers' compensation representative may also reach out with questions. It is also possible that they will deny the claim. It is important to find out why they deny the claim, so you can consider your options.
A workers' compensation claim may be denied for a few reasons, including the question of whether you were actually injured, a claim that the injury was not work-related, failing to report the injury in a timely manner, or that your medical records don't report a severe injury.
Do I Need a Workers' Compensation Lawyer?
A workers' compensation lawyer is not always needed to receive benefits. But, that doesn't mean that you will never need one. If your workers' compensation claim is denied, and you believe that it should have been approved, then a lawyer may be able to help you. Your lawyer can evaluate why your application was denied and help you appeal the decision.
If you are having a hard time navigating your New Jersey workers' compensation claim, then you may decide to reach out to a lawyer. Workers' compensation claims with a lawyer are more likely to be approved because your lawyer is familiar with which right documentation to include, while also knowing how to handle the appeals process. Reach out to a workers' compensation lawyer today to determine your legal options. You might also reach out to a lawyer to learn more about the appeals process.
Read more: A Short Guide To Workers' Compensation Claims
Contact A Cherry Hill Workers' Compensation Lawyer to Discuss Your New Jersey Workplace Injury Case
A workplace injury can be devastating, particularly if it prevents you from returning to work for an extended period of time. Although New Jersey Workers' Compensation laws are supposed to provide you with reimbursement for medical expenses and replacement pay for missed time at work, it is not always easy to get the Workers' Comp benefits you deserve. That is why you should speak with a knowledgeable Workers' Compensation lawyer about your situation and get guidance throughout the claims process. The experienced Workers' Compensation attorneys at Begelman & Orlow, P.C. represent clients in Cherry Hill, Lindenwold, Voorhees, Gloucester Township, and all across New Jersey. Call (856) 547-7400 or email us today to schedule a free consultation about your work injury case. Our main office is located at 411 Route 70 East, Cherry Hill, NJ 08034, and we also have an office in Feasterville, PA.

The articles on this blog are for informative purposes only and are no substitute for legal advice or an attorney-client relationship. If you are seeking legal advice, please contact our law firm directly.